Post by Scott on Mar 31, 2008 22:06:10 GMT
At the start of last month, we were one point behind Arsenal, after clawing back four points on the Gooners. Now we proudly stand five points clear of Chelsea, six points clear of Arsenal, and there doesn't look like there can be anything that stops us. Of course, we don't want to count our chickens and get over confident, however, I am sure we are more happy and relaxed supporting United at the moment than any Chelsea or Arsenal fan.
Arsenal pulled off a result at the Reebok, but looked truly dire for the first 45 against Bolton. Chelsea put on an awful display for 90 minutes against Boro. United in contrast played some truly beautiful football against Aston Villa, Rooney even likening our performance and style to that of Brazil's. We have to keep our cool though, keep up this level of football, and send out the right message when we play Arsenal and Chelsea later in April. What I can say is that it would be absolutely scandalous if this team did not win the league, with the difference in quality between our team and everyone else's!
This month has been a fairly busy time on the forum, with the ProBoards 4.5 upgrade taking place and several new features being added to the forum. Hopefully these should help contribute to a more appealing forum with better usability.
Click here
to find out the benefits of the upgraded forum.
In the past month, a couple of new design's have been added to
the shop
.
Now let us begin:
Member of the Month
The winner of Member of the Month in March is one of our youngest ever winners. Despite being one of the youngest members on here, he posts in a mature and informed manner, and clearly knows his stuff where United are concerned. So join me in congratulating MUFCJoe as this month's winner.
Interview
Time for the member interview. Find out about more about Nailer.
Real name:
Conor O' Neill
Where are you from:
Wexford, a small town in the very south east of Ireland. Castlebridge, to be precise. An even smaller, more south westernly town in Ireland.
Who is your biggest inspiration:
My dad, without a doubt. The man's a legend. Never a bad word to say about anyone, gets on with everyone, and is always there for anyone who needs him. I cant think of a single moment where my dad's let any of my family down, I admire him for that.
What would you like to be better at:
Football, without a doubt! Im pretty OK at everything, just not excellent at anything! Id love a talent, definitely football.
What is your all time favourite film?
That's a tough one... Probably The Godfather.
Favourite Quote?
Ah there's millions! I'll go with a classic from René Descartes - "Cogito ergo sum", which translates to "I think, therefore I am". I've always liked it. Profound. ;D
If you won the lottery, how would you spend it?
Id make the 50GB of music I have legal first of all! Nice house, nice car. I'd buy a season ticket at Old Trafford too, If I could get my hands on one. Then sort out my parents, friends and my sister.
One job in the world, what would it be?
I wouldn't mind being head of the European Commission...
But that's not very realistic. Ideally I'll live in Dublin, and write the sports for the Irish Times. Just have to off Tom Humphries first.
Your dream girl/boy?
Jessica Alba. Damn!
What's your biggest ambition in life?
To be happy, and to have a significant impact on the world!
What's your greatest ever achievement?
Nothing massive as of yet, lots of little stuff. I've an All Ireland medal for football (soccer), Im senior in my school, and I was in an opera that was pretty famous worldwide with some amazing people! It was called "Transformations", Conrad Susa wrote it.
What's your biggest regret?
Probably the end of my first relationship! Loved the girl to bits and it kinda fell apart. But its all cool now though.
Where do you see yourself in 10 years time?
Living in Dublin/New York/Manchester writing for a living, with friends in a bitchin apartment, on good money.
Who do you hate most: City/Liverpool/Leeds/Arsenal/Other:
Arsenal, mainly for Martin Keown. He was an absolute fucking wanker. Never been more incensed than when he squared up to Ruud after the penalty miss. More so pity Leeds/Liverpool/City, none of them are big players, no matter how much they want to believe they are.
How did you celebrate us winning the title?
Had a party at my house, with all my United-supporting mates! Scousers were there too, for good measure.
Whats the best game you've ever been too?
I've only ever been to one, I just cant afford going to OT. Im a student and my family aren't rolling in it either. The game I saw was United vs Chelsea at OT on the 9th May 2004. Will never forget walking up those steps to take my seat, unbelievable.
Who's your favourite member on the forum?
Definitely Red Yank, every time I go to post in a thread he's already got there, and posted my sentiments exactly! He's a level headed guy Jorge. But to be honest, the forum's great, everyone's dead sound. Special mentions ot Mysteriousjeff and Chris.
Anything else you want to tell us?
I love to write! I've some poetry here if anyones interested.
nailerlikestowrite.bebo.com
Cheers! In the future, be great to one another!
Match of the Month
This month's write up is by
me
.
At RoM, the members who do the write-ups are given complete freedom in picking their match and player of the month, as long as they can argue their point and explain why it has been chosen. I like it when members go for a match that isn't too obvious and show the positives of what might have been perceived as an insignificant result.
You could look back at March and argue that the 1-0 victory over Derby was a crucial result for United. For those of you who were on the forum at the time, losing your mind with me in the chat room, I was aware of the massive relief that passed over us all when Ronaldo found the back of the net.
More recently, the 4-0 victory over Aston Villa, which had even the dipper dominated MOTD team conducting a wankfest, showed United at their best. The goals were brilliantly created, we played beautiful football, our passing was spot on, and the level of performance improved as the match went on. The lads looked like they were thoroughly enjoying their football and played at this high level until the final whistle.
However, it doesn't matter what games United played in March, how good our football was, how special our goals were, because there was only ever going to one game I did this write up on. United 3, murdering, thieving, bin-dipping, scouse bastards 0.
So strong is my hatred for our Merseyside rivals, so passionate is my dislike for everything associated with that team, that every time I see our mighty club get one over on them, I am filled with unexplainable joy. We could win with a goal going in off John O'Shea's arse and it would still be one of the best moments of the season. So when Wes Brown opened the scoring with a goal off his shoulder blade, I knew we were in for a good day!
The Liverpool side that came to Old Trafford last season was absolutely annihilated by our lads, whereas this Liverpool side was just very comfortably beaten. There has been a lot made of Mascherano's sending off, and as Terry Christian correctly identified on TalkSport on the Saturday just gone, if he didn't play for Liverpool, nobody would have raised an eyebrow. Mascherano had a red card hanging over his head throughout the first half. It was painfully obvious to everyone, even manager Rafa Benitez, who repeatedly told his player to "finish" when he was mythering the referee. The general consensus in the press though, eventually, was the right decision had been made. Well, apart from Alan Hansen's viewpoint, strangely enough
Hansen believes that football is in a terrible state if a player is going to get sent off for questioning a decision and blamed the referee. Hansen believes it was the referee's responsibility to tell Gerrard to keep his player in check. I do like to have a pop at the dippers, but Hansen makes it far too easy. If Mascherano had been sent off for questioning a decision, then Hansen would be completely right to criticise the sending off. However, anyone who watched the game and has even a small understand of football could see the reason why Mascherano got sent off. He continuously badgered the referee for the entire half, telling the ref to fuck off whenever a decision went against him, and mouthing in the referees ear for decisions that did not even involve him. He ran 15-20 yards to "question the decision" of giving Torres a yellow card, and the referee pointed to the tunnel, as if to say, "piss off, or I'll send you off." If Mascherano had backed off at that point, he would have stayed on the pitch (at least until some stage in the second half, or Benitez would have had the sense to sub him off) but he chose to carry on arguing, calling the ref's bluff, and he paid the price for it. Is it the referee's responsibility to tell the captain what to do? Or should the captain of Liverpool, a man hoping for England captaincy, have the nowse to work that one out himself? It was painfully obvious to everyone watching that Mascherano was on one, and it was the responsibility of someone, whether that's Benitez or Gerrard, to sort their player out. They didn't and Mascherano paid the price.
Did Liverpool pay the price though? No. If anything, the red card was somewhat of a blessing. It lead United to get rather complacent for a period in the second half, allowing Liverpool to come at us for 10-15 minutes. They managed their only shot on goal in this time. However, our class shone through, and goals from Ronaldo and Nani sealed the points for us.
After plenty of talk circulating about Ronaldo not being a "big game player", some even suggesting this was perfect justification for him not to receive the highest individual player awards this season. But for him to score a goal against another "top 4 team" this season is another statistic to throw back in the faces of those who criticise him. Nani's finish was superb, collecting the defence splitting pass from Rooney, to blast an unsavable shot in to the corner of the net.
Is there anything like getting one over on your most hated rivals? Certainly not. So what has made the victory even sweeter is the comments that have come from Stevie Me this week.
"He destroyed us at the weekend with his direct running and making it difficult for defenders," said Gerrard, leading to staunch criticism from the dipper faithful.
Liverpool Kop
had this to say:
"What is it with Steven Gerrard?! He just has no concept of what being a captain is all about. He proved that categorically with his failure to turn up in any capacity at Old Trafford, but now, in the aftermath of the defeat, he's decided to eulogize about Wayne Rooney in public, praising him in emphatic terms for the part he played in Man United's victory. Gerrard also enthused about how playing with Rooney was 'always a pleasure'. Is this what Liverpool fans want to hear from the captain of the club 4 days after being beaten 3-0 by our hated rivals?! Is this the kind of fighting talk that we should expect from someone who is supposed to embody the competitive spirit of the club?! Hell, even Paul Friggin' Ince never spoke about the team in such a manner when he *shudder* captained the club, and he was an ex-Manc! Just imagine what Liverpool could achieve with a *proper* leader."
Gerrard has today spoken of this rubbish past week, in light of the 3-0 drubbing at Old Trafford. "Last week was very disappointing - it was a difficult week swallowing that defeat at Old Trafford," he said. Ah, music to my ears.
United went five points clear at the top of the table, following Chelsea's victory over Arsenal, and completed the double over Liverpool for the second year in the row. Result. And the talk of "this is our year…" is put off for next season again for the dippers.
Player of the Month
This month's write up is written by Fergie's Gum
It has been a very mixed Month for United yet again but one that has seen us go clear at the top of the Premiership.
The month started off with a convincing 3-0 win away at Fulham. Hargreaves got on the score sheet for United and also bagged the man of the match. Next in line was the last 16 2nd Leg against Lyon where Ronaldo bagged the only goal of the game to see United through 2-1 on aggregate. After the Midweek high of a quarter final place booked, we lost to Pompey in the FA cup, we were robbed to be honest, and I'm sure a lot of people would agree with that, and a harsh sending off? Anyway moving on.
Next along was Derby, where everyone thought it would be a hammering for Paul Jewell's men. It was far from that but Ronnie again popped up with the goods 10 minutes before the end to seal a very important win. Bolton then travelled a short way to Old Trafford for a midweek game. Again that man Ronaldo showed his class with two superbly taken goals that saw him overtake Bestie for the most goals scored in a season from a winger at United. Who can forget
that free kick
yet again? World Class! Not a classic performance but a very good win. After that came the dippers. No one was expecting the match to be as comfortable as it was but I'm glad it was. 3-0 was the score and Cristiano 'Not a big game player' Ronaldo got another goal to add to his tally along with Wesley Brown and Nani.
After the impressive win over the dippers, Villa was the next team to visit Old Trafford. I thought the game against Villa was going to be very tight but it turned out to be the opposite. Ronaldo again with a man of the match performance and an equally as good performance from Rooney sealed the points. Ronaldo got the opener with a cheeky back heel. Ronaldo then turned provider with a pin point cross for Carlos. I was then pleased to see Rooney get on the score sheet, you could see by his reaction that his non scoring form at home had worries him a little. A very strong performance from the lads and we are looking strong with the title run in becoming more intense.
To me this month's award can only go to one player. A player that has scored again and again and seems to think he can break every record, and I certainly wouldn't back against him breaking more records this season. His performances over the month have been sensational. His scoring has been outstanding and has helped the team a lot. Don't get me wrong, there have been superb performances from the lads this month (Rooney, Carrick) but Ronaldo takes it for me.
My player of the month is Ronaldo.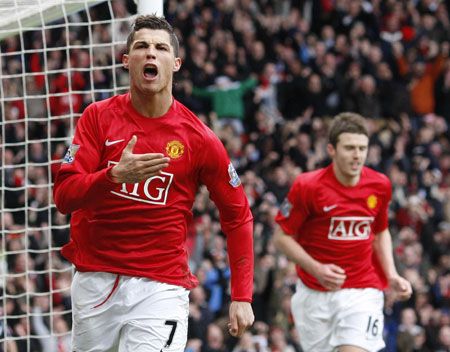 ---------
I hope you enjoyed the twenty second edition of The Paper. Any comments about it please leave in the comments thread on this board
Editor: Scott