Post by Scott on Oct 31, 2008 0:34:40 GMT
Bit of a mixed month for United, although generally positive. October started with an away win at Blackburn, before thrashing West Brom and cruising past Celtic. The only blip of the month came at Goodison Park, being pegged back from 1-0 in a game where we spent the first 45 minutes in total control. Ferguson criticised United for the same lax approach to the second half of our 2-0 win over West Ham. With Arsenal, Celtic and City to play away from home this month, we certainly need to pull our socks up!
You may have noticed a few members have got a special "RoM Contributor" tag under their name, along with a different member colour. These are people who will be contributing to VoM in the form of match and player reviews over the next season. If you want to get involved in writing an article, short or long, then just drop me a PM and we'll sort it out.
Big thanks to VoM Contributors: Steward1971, RedSoldier, Mox, United4lyf, Kokka, Supatrice, A-t-S, StretfordEndling, DanishRed, DriftingRedDevil, Gapi, Soapy, Vidic > Superman, Tatty and StretfordEnder.
Now let us begin:
Member of the Month
AndoverRed is this month's winner, who joined the forum almost at the very beginning, back in May 2006. So congrats and keep up the good work!
Sing a Song for the Unsung
Runners up
:
Winner
:
Interview
With staff member Chris83.
Real name:
- Christopher Paul Hobson
Where are you from:
- Doncaster, South Yorkshire
Who is your biggest inspiration:
- Not sure about this one. Probably my Mum for putting up with a lot of shit over the last few years
What would you like to be better at:
- Hard to say since i'm almost perfect. Believe it or not, I think maybe a bit more confidence may be something i'd improve.
What is your all time favourite film?
- Easy! Pulp Fiction
Favourite Quote?
- I'm not one for famous quotes, but I laugh at ones from the film 'Friday' such as:
I know you don't smoke weed, I know this; but I'm gonna get you high today, 'cause it's Friday; you ain't got no job... and you ain't got shit to do.
and
I got mind control over Deebo. He be like "shut the f**k up." I be quiet. But when he leave, I be talking again.
If you won the lottery, how would you spend it?
The usual. Cars, House, United season ticket since thats the only way i'll be able to get one since my job prevents me!
One job in the world, what would it be?
- We all say footballer so of course thats the dream job, but i'm training to be an electrician so that will do for me.
Your dream girl/boy?
- Jessica Alba. She DAMN fine!
What's your biggest ambition in life?
- Good career, lovely yet hot wife, couple of kids.
What's your greatest ever achievement?
Sadly not many but learning to drive and recently paying off my first loan are up there.
What's your biggest regret?
- Not trying hard enough in school and taking the wrong career path. I'd start again if I could.
Where do you see yourself in 10 years time?
- I'll be a successful electrician, with a wife and 2 kids.
Who do you hate most: City/Liverpool/Leeds/Arsenal/Other:
- Liverpool. I hate the others but nothing compares to my hatred for the dippers. The players, the fans everything. !
How did you celebrate our title and cup win?
- I went down to Manchester to watch it and got on the sambuca's. Cried like a baby and shot to Old Trafford dancing about outside. One of the best nights of my life.
What's the best game you've ever been to?
- Amazingly i'd say a game we had lost! We lost 1-0 to Derby back in 00/01, but we lifted the Premiership trophy on the same day. My first game at O.T when we beat Leicester 5-1 in the league cup. I went down to Cardiff to watch the Carling cup final against Wigan but I could hardly see anything cos I had a problem with my eyes and could hardly see at the time.
What's your favourite ever United goal?
- Giggs, F.A Cup semi final reply. No more needed
Which player from the past do you rate the most?
- The king. Eric Cantona was everything our club is about.
Which player are you most excited about this season?
- Anderson. Really looking forward to him this year. Others spring to mind but its Anderson's second season and in time he'll be one of the best in the World.
Who's your favourite member on the forum?
- Can't chose any single member. My fellow admins, Kokka is always a laugh, Stephen (Stretford Endling), Soapy, redom, Tatty. We're all great!
Anything else you want to tell us?
- I have no toenails on both big toes and I can belly dance...... Sorry, I had no idea what else to say.
Match of the Month
This month's write up is by StrefordEnder.
The day for me started with the 8:20 train from Crewe to Limestreet, and there was a number of issues under discussion.... the ongoing Tevez saga, with press reports everyday linking quotes suggesting he is uphappy with life in Manchester, the general thought was surely he would play today?! Another was obviously the man of the moment, Rooneys return to his former side, think we all knew the reception that he would get...more on that later.
Getting to the ground and hearing the team...Park in, Nani out, fair enough. Giggs in, Anderson out? Hmm, wasn't to sure about this one. Wes in for the Neviller..Justifed I think. Still no Tevez? Surely he wont be happy with being overlooked again? Nice to see former reds, Saha, Phil & Howard acknowledging the traveling reds prior to the game too.
The game started pretty solidly by the reds. Probably United just having the better of the early exchanges, leading to a cracking block from Wes from a Saha shot. This seemed to wake our boys abit and it wasn't long until Kokka's player of the month Dazza sticking us 1 up around the 20 min mark, having previously missed a similar chance moments before. United from this moving on to near total domination of the half, leading to 2 great saves from Ronaldo then shortly after Vidic from a corner.
As half time drew in the away end was happy. Surely this was our game, but a one goal lead away from home is tricky no matter were you are and how your playing? Berba didn't do alot was looking like the recent run of games/traveling had taken its toll, so surely it wouldn't be too long before we saw Tevez & went for the jugular?
2nd have kicked off, and it was quite apparent that Moyes had tore strips off his side at half time and obviously fired up. This then started to win the crowd back and things were beginning to get hard for us.
It wasnt long until the crowd really got going, with Phil Neville lunging at Ronaldo after the whistle had gone? Surely this warranted a Red? The fans where now incensed, the players were visibly angry, surely this would be our kick up the bum to get going again?
All this seemed to do however was spur the Everton fans and the team up more and they were soon back in the game. Phil crossing for their new summer signing Fellaini to convert. You now began to worry...surely we wouldn't leave Goodison with a defeat? It wasnt looking promising.
Then arguably the games biggest talking point. Rooney reacting to Evertons fans consistent taunts and kissing the badge. This is the kind of passion we like to see from Rooney, who has always worn his heart on his sleeve? Was he right to do it? In my biased opinion it was harmless, ignited the Everton fans but also, stoked up the traveling reds again. This was to be his last action of the game after picking up a yellow, Ferguson brought him off for his own good to be replaced by Nani? This seemed like a bizarre decision for me when you had a ready made replacement in Tevez sat on the bench?
Que the next worrying moment with Rio under hitting a pass back straight into the path of Yakubu. Surely this is the point were we go 2-1 down right? Wrong....a brilliant save from Edwin to deny him and we could breath again.
Carlos was then put on in the 77th min for Fletcher who had been having a good game. But you sensed he had been left too late and he did struggle to make and impact.
So it finished 1 a piece and the phrase 'a game of 2 halfs never 'seemed more appropriate. My doubts of leaving Ando out for Giggs came back to bite me after Giggs and Fletch delivered a midfield master class in the first half, but United s failure to take the chances present to them in the first half cost us.
Player of the Month
This month's write up is written by Rais.n.Hell (written before Goodison Park)
For any team to be able to achieve its mission there has to be a driving force that can lead all the other members of the team towards their cohesive target. One man cannot carry the whole load, but one man can inspire and lead the rest into a scintillating performance. In the month of October our fixtures were interrupted by the international break that gave us a much needed breather from our previous not-so-fruitful fixtures.
We were still trying to figure out the best partnerships in our strike force and clasping our hands for a better grip on our midfield. At this time we needed someone who could step up to the plate and deliver the goods. We were down in the league at the 11th position, while are bitter blue neighbors were 8th. Chelsea were the top of the league and Liverpool and Arsenal 2nd and 4th respectively, with Aston Villa playing hookie at 3rd. We desperately needed to get back to our wining ways.
End of September saw play Bolton and register our second win off five league games of the season and that was not a good thing. We had started real slow and this time around our competition is going to be tougher than last season. Cristiano Ronaldo and Wayne Rooney were both instrumental in the game with Ronaldo scoring the penalty and Rooney finishing the job with a brilliant strike, even though he was a substitute.
October saw us start away against Blackburn Rovers and a long way to catch up to the then league leaders. We won 2-0 and had our defense put itself on the score sheet thanks to Wes Brown. However our job there was not yet complete and Wayne Rooney brought down the gauntlet on the Rovers with a thumping goal. We played well, looked similar to the team play United are known for. However, we were not completely polished in our finishes and wasted a lot of chances.
And then came the international break and we all know how our boys faired during that time. I guess it provided the healing time we needed, because our first game from returning from the break saw us beat West Brom 4-0 with two strikers and two midfielders getting on the score sheet. We literally cruised the game. Scorers: Rooney, Ronaldo, Nani and Berbatov
Third week had us playing the UEFA Champions League against Celtic, and we all know how that ended... 3-0 United! Berbatov scored a brace while Rooney got his nose dirty too towards the end and smashed one in the net.
We did a brilliant job all around. All games were won and we were back to our old selves. All our players performed brilliantly. However, through all the games played so far there were only a few players that stood out. Rio and Vidic's partnership with Brown as support was fantastic. Fletcher stood out all throughout the midfield and kept our guts intact. Berbatov did absolutely well and is on his way to proving he is worth the money. However, there can only be one man who could have shown brighter than all stars in the galaxy called Manchester United... the one and only Wayne Rooney.
I think it will be naïve of me to believe that anyone here would disagree with me about this lad's immense contribution to our campaign this month. Not only did he score in every game so far, he has also brought the national team fame. I am not fan of the English team as it is well known, but he's helped bring predominant praise from the nation that is so eager to blame United players for its failures, despite evidence to the contrary.
Rooney worked hard all along and we are all tipping him to score his 100th league goal tomorrow against his former club, Everton. Seeing the way he is at the moment, I would not doubt his mantel, but word to the wise, pressure can be a bad thing. None-the-less, whatever the result tomorrow may bring, Wayne Rooney has won the Player of the Month for October.
I saw my mate the other day,
He said to me he saw the white Pele,
So I asked, who is he?
He goes by the name of Wayne Rooney,
Wayne Rooney, Wayne Rooney,
He goes by the name of Wayne Rooney
Once a blue always a Red
Game Review
This write up is by Vidic>Superman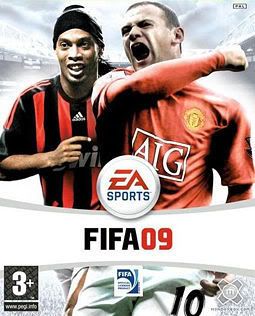 There's always one certainty with every edition of FIFA, it'll be better than the new version of Pro Evo. This year is no different.
The first time I played FIFA 09 was on the Xbox 360, I was blown away by its brilliance. The graphics are improved, the game play is improved, the first touch is better, the realism of tackles is vastly improved. I could go on for a very long time with this list. This could suggest that the 08 version was a bad game in need of huge improvements, it wasn't, it was fabulous, really showing how good a job the EA team have done in making the 09 better in almost every aspect of play.
As with every new addition of FIFA the players move more realistically, long gone are the days when they seem to be made of wood, 350 new player animations make sure of this.
Playing the PS2 version limits the improvements of graphics to only a certain amount as you would expect but it's still improved from 08, the players faces are generally much more realistic, Carrick actually looks like he does in real life now.
On FIFA size does matter, the bigger the size of the player the more likely he is to win the ball, keep the ball and hold off the last defender for a shot on goal.
Having a referee on the pitch rather than being invisible adds more realism to the game along with the tackles, no longer are 99% of sliding tackles a foul or a yellow or red card. Allowing a team to play on whenever possible is thankfully still part of the game play, unlike Pro Evo where a free kick is always awarded, for merely breathing on a player I must add.
The soundtrack again provides a range of different types of music to suit just about everyone, from The Script to The Ting Tings. My personal favourites include Kids by MGMT, 61 by The Kissaway Trail & Olympic Airways by Foals.
One of the many reasons why FIFA is always better than Pro Evo is that you can see the differences immediately the first time you play, it's not like a treasure hunt. This year the changes are again noticeable, maybe not as much as in previous years but this is to be expected with EA focusing the vast majority of their time on the PS3 and Xbox 360 formats.
I'll admit that I haven't played the new edition of Pro Evo, yet, but already I know it can't be as good as FIFA, 09 is simply too good for Pro Evo to have caught up and overtaken it in terms of quality.
If you're undecided about whether to buy FIFA 09 or not take my advice and buy it, I strongly advise you buy it on either the PS3 or Xbox 360 as it's far superior to the PS2 version, but, if like me you're still using a PS2 it is also definitely worth buying. Expect this to be the last FIFA released on PS2, although i'd love for EA to prove me wrong.
Lets FIFA 09!
---------
I hope you enjoyed the twenty sixth edition of The Paper. Any comments about it please leave in the comments thread on this board
Editor: Scott